Glitter, Stars, Hair Clips… just a few of my favorite things. I have seen all three of these things ALLLL over the place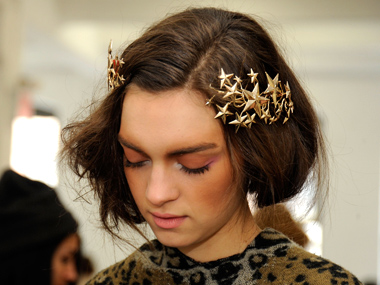 Rodarte Star Hair Clips

Jennifer Behr Hair Accessories
Who doesn't like a little something sparkly and pretty for your hair?
I do I DO!
Here is my go at a FREE VERSION. I threw open my craft closet door and used only what was in stock: Glitter, glitter glue, hair pins and thick card-stock…. here we go!
Pretty simple to make. Here are some key tips & tricks.
*Make sure you use very thick card stock. Thicker the better. That way it will last longer and won't fall apart after one use!
*Use glitter glue, not regular craft glue. It is the variation of glitter sizes that makes this hair pin look fab. If you can, use a variety of loose glitter sizes as well. This gives the hairpin a more expensive feel, and a little less 'crafty'… nothing wrong with crafty, but sometimes you just don't want to look it.
*Once you sprinkle the loose glitter onto the stars, let them sit for 10-20 minutes then coat them with the clear coat to secure the glitter. Two coats is best.
*Hot glue the flat side of the hairpin to the star. Be careful not to glue the pin shut!
Layer away! I like to create a variety of sizes of pins and use more than one at a time. And don't just limit yourself to stars. Hearts, flowers, smiley faces… whatever floats your boat. The stars feel very new year's eve-y right? Hummm… wonder what we will be doing for NYE… ok, I am getting way ahead of myself 😉