Whether you are a hobbyist or a contractor, there are tools that you are required to make use of and one such tool is a circular saw.
Circular saws are handheld equipment that makes use of an abrasive wheel or blade to cut through ceramic, aluminum or wood as well as allowing make quick and easy changes.
Without taking much of your time, sit back and relax for a minute and let us show you the top five best models which would make work very easy and less stressful for you.
5.
Black & Decker BDECS300C 13 Amp Circular Saw with Laser

One impressive feature of the Black and Decker BDECS300C circular saw is its laser guide which helps in obtaining precise and accurate cuts and it also comes with a bevel that is quite easy to use.
The Black and Decker BDECS300C 13-amp saw is ideal for making depth adjustments and thanks to its spindle lock design, blade changes can be made easily using this top quality circular saw.
Unlike most circular saws out there with a heavy-duty design, the Black and Decker circular saw features a lightweight design that helps to get rid of hand fatigue and it comes backed with a 2-year warranty thanks to its durable and top material construction.
Pros:
The laser comes with a good touch
Easy to use and ideal for cutting at home
Cons:
Red laser light is difficult to see in bright light conditions
Beam loses accuracy as it is extremely wide
4.
WORX WORXSAW 4-1/2″ Compact Circular Saw – WX429L
Well designed to become your favorite tool at the workshop, the OWRX WORXSAW compact circular saw is a portable and easy to hold tool which delivers large size cuts that can be likened to that of a larger saw and it also comes with a powerful motor and amp which ensures a more reliable and efficient performance each time it is being made use of.
One notable feature of this quality circular saw is its extremely thin blade which works effectively in getting rid of strain as well as delivering a full-size and high-speed performance.
Its parallel guide attachment helps in obtaining precise and straight cuts as well as making adjustments easy and quick.
It also boasts of a left-handed blade design that delivers clean and safe cuts and it is well designed to create an amazing masterpiece whenever it is called upon.
Pros:
Easy to control and easy to hold
A great quality product which makes it stand out from the rest
Doesn't require working with two hands
Cons:
Not powerful as expected as it fails to cut through a sheet of ply
3.
SKIL 5280-01 15-Amp 7-1/4-Inch Circular Saw with Single Beam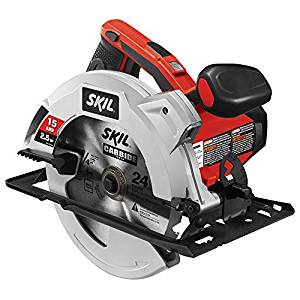 One of the benefits that the SKIL 5280 circular saw brings is it helps to fight against user fatigue as it boasts of a fifteen percent weight reduction and thanks to its 15-amp motor, this high-quality circular saw will deliver superior performance and high power needed to get every task done and that is why it stands out from the rest.
It isn't just about getting tasks done but the SKIL 5280-01 circular saw will deliver accurate and precise cuts using its single beam laser design and it also comes with a carrying bag that provides better storage and portability.
One notable feature of this quality circular saw is its positive stop at 41 degrees combined with 51-degree bevel will deliver greater and better cut performance than most other models available on the market.
Pros:
Powerful saw which works as described
Can also be made use of in a commercial setting
It also comes with a wrench storage slot, power indicator light and laser light guide
Cons:
Plastic casing doesn't make it ideal for commercial use
The laser isn't durable and would break at some point
2.
DEWALT DWE575SB 7-1/4-Inch Lightweight Circular Saw
This highly rated circular saw from DEWALT is well designed to be a well balanced and light saw and one impressive feature of this circular saw is its electric brake which helps in stopping the blade after its trigger has been released.
Durability is guaranteed when it comes to designing the DEWALT DWE57SSB circular saw thanks to its ball bearing lower guard design that also helps in preventing dust contamination and it also boasts of a top-quality aluminum shoe which ensures a smooth and durable base for obtaining precise cuts.
Convenience is assured when using the DEWALT circular saw and thanks to its onboard storage wrench, storing up this saw after use is very easy and convenient. It also comes with a carrying case for convenient transport anywhere you feel like taking it to.
Pros:
Delivers excellent cutting performance
Can be given as a gift item to your dad or husband
Lightweight yet powerful
Cons:
Doesn't come with a blade cradle
Generates excess vibration which hinders it from obtaining precise cuts
1.
SAW SPT67M8-01 Southpaw 7-1/4 In. Magnesium Left Blade

This is a must-have tool in every workshop as it boasts of state of the art torque which helps to boost the speed of cut as well as increasing productivity.
One impressive feature of this top-rated circular saw from SKILSAW is its left blade sidewinder which helps to improve cut line visibility and accuracy as well as improving the blade as well.
Unlike most low-quality circular saws on the market, the SKILSAW southpaw circular saw helps to get rid of user fatigue thanks to its magnesium construction which also makes it extremely durable while its power dual field motor helps to prolong tool life and boost cooling.
Pros:
Adjustable blade to base angle for obtaining desired results
The extremely solid base design
Very easy to make use of
Lightweight but still very powerful
Conclusion – What You Should Know
There you have the top five best circular saws listed and looking at this review you will find out that the SKILSAW SPT67M8-01 Southpaw 7-1/4 In. Magnesium Left Blade Sidewinder is the top-rated as it boasts of an extremely solid base, adjustable blade and very easy and convenient to make use of which delivers desired results.
However, the other models are still powerful, efficient and would get any task done so we urge you to carefully consider all of them in order to select the one that best suits you.
Sale
Bestseller No. 1
SKIL 15 Amp 7-1/4 Inch Circular Saw with Single Beam Laser Guide - 5280-01
Powerful 15-amp motor delivers 5 300-RPM for greater speed and faster cuts
7-1 4-inch carbide-tipped blade included. Spindle lock for easy blade changes.
51° bevel capacity with a positive stop at 45° for a wide variety of cuts
Dust blower keeps line-of-cut free of sawdust for improved visibility
Safety lock/guarded trigger and power-on indicator minimize accidental starts
Bestseller No. 2
Makita 5007Mg Magnesium 7-1/4-Inch Circular Saw
Magnesium components create a lightweight saw (10.6 pounds) that is well balanced and jobsite tough
Powerful 15.0 AMP motor delivers 5,800 RPM for proven performance and jobsite durability
Two built in L.E.D lights illuminate the line of cut for increased accuracy
Large cutting capacity (2 to 1/2 inches at 90 degree) and bevel capacity (0 degree to 56 degree) with positive stops at 22.5 degree and 45 degree
1 year warranty
Sale
Bestseller No. 3
Skil 5080-01 13-Amp 7-1/4" Circular Saw, Red
13 Amp motor for more power and performance than the SKIL 5380
15% weight reduction vs. SKIL 5380, reduces user fatigue
51-Degree bevel with positive stops for great cut capacity
Spindle lock for easy blade changes
Improved dust blower keeps line of cut free of sawdust
Sale
Bestseller No. 4
Sale
Bestseller No. 5
Worx WX439L 4.5 Amp WORXSAW 4.5" Electric Compact Circular Saw
[ONE-HAND OPERATION] The newly designed slim form factor makes the Worxsaw even lighter and more maneuverable. Grab it with one hand, and you're...
[2" CUTTING CAPACITY] Made to cut up to 2" thick stock lumber. It's made for quick rip cuts around the house, too, but lumber is where it really...
[EASY DEPTH ADJUSTMENTS] Just press down the lever and raise or lower the main handle until you're at the depth you desire for the project at hand
[45 Degree BEVEL CUTS] For artistic or functional end pieces, you can come at your wood from an angle that's just right
[DO IT YOURSELF. DO IT BETTER. DO IT WITH WORX.] Worx tools are engineered with cutting-edge technology, and above modern efficiency standards, so you...
Related Products:
Best Hand Saws For Splitting Wood