Communication is one of the most important things in business, and what speaks communication more than an office phone? Although a lot of people nowadays prefer to keep things "modern" and communicate through e-mails and phone-apps, there are still some who enjoy a good old phone call.
If somebody wants to reach you while you're at work, it's more convenient to call your office phone rather than a ring on your mobile device. However, some businesses require a person to take dozens of calls daily, and this can be quite the pain without having a proper model.
In today's article, we're going to let you know what the six best choices are when it comes to office phones, so if you are currently in the process of purchasing one, or you're just curious to learn some more, you're more than welcome to keep on reading until the end. Let's take a look.
1. Panasonic KX-TGF252N
Panasonic is a well-known brand for technology, and they have a great reputation for making reliable telephone devices. Their products are functional, highly durable, and easy to use, making them the perfect fit for both smaller and larger businesses.
The XK-TFF252N model comes in two variants, corded and cordless, so depending on if you don't want to deal with any cables, or you simply prefer the more "old-school" look, choose whatever works for you. Obviously, the cordless model might be slightly more expensive, but this device goes for just under eighty dollars on popular online marketplaces such as Amazon and Newegg.com, so price shouldn't be an issue at all.
We think that getting such a reliable device from such a popular brand for this amount of money is an absolute win, so we wouldn't think twice about getting it.
2. XBlue X16 Phone System
If you are the owner of a starter, and you don't have a lot of employees, this is probably one of the best options for you. The XBlue X16 Bundle comes with four telephones and it's more than enough to equip all offices if you are not a larger enterprise.
A lot of people seem to like this offer, and it's because the price is not high and it's a one-purchase solution for a long time. It comes with the "auto-attendant" feature as well, which is great for the price that you're paying. On Amazon, it's currently slightly above six hundred dollars, and it's pretty safe to say that this offer is affordable.
Speakerphone and all of that is included, meaning that if you ever have to listen to someone talk while doing something else, it's an option with this model.
3. AT&T ML17929 2-Line Corded
Unfortunately, this model doesn't come in a cordless version, but that's fine because it has a lot of benefits that can "fill up" that hole. It's really easy to use and according to the users and reviews on the internet, it's durable as well. The great thing about it is that it has the conferencing function which allows you to talk to all of your employees at once, hold meetings, and a lot more. Also, it has an ID function so you'll always know who's calling you. The audio quality is great and the screen is also visible in both daylight and night-time under the lamp. It doesn't take a lot of space on your desk, which is another plus if you are currently set-up at a smaller table.
If you are interested in implementing an IP telephony system for your business, which is one of the popular trends for 2023, feel free to visit omnitotal.com.
4. Grandstream GXP1400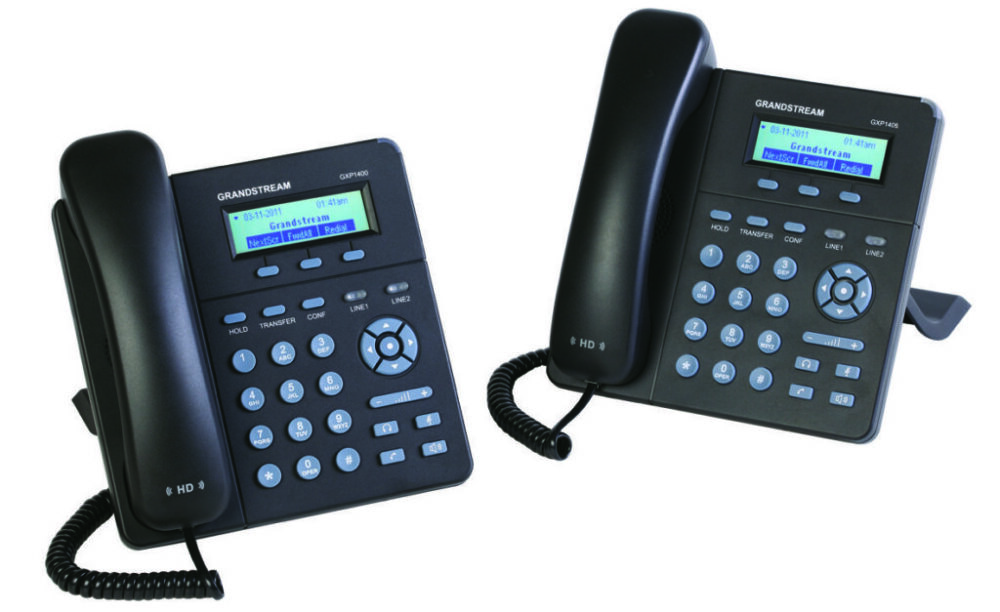 This is a wonderful device if you are the type of person who wants to store a lot of contacts and record your entire calling history. If you choose to go with this option, you will be able to always check who you called in your last 200 uses, and you can store up to five hundred contacts, which is a pretty impressive number.
The design of this device is great and it comes in black color, but you are unable to purchase it cordless. It doesn't matter though because the cord if fairly-sized and this is a durable device that comes for a great price. It's currently available on Amazon for around a hundred dollars, but you can often find someone selling one for less.
5. Cisco 7841
Cisco is another reputable brand that gets a lot of love for the products that they're making, and the popular 7841 phone model is one of them. This one is amazing for your office for a lot of different reasons, and we're here to tell you all about them.
First of all, it has a high-definition sound, meaning that you'll be able to hear everyone loud and clear, even in a conference call. It has a speakerphone option and programmed shortcuts that allow you to switch between modes in just a second.
It comes in black with a slight silver touch and it just looks great for an office phone. It's not very cheap, however, but that's probably because it's very durable and popular in the corporate world. Currently, it goes for just slightly above two hundred dollars.
6. Polycom VVX 300
If you happen to work at a call center, or your job position is similar to it, this model is what a lot of people worldwide are recommending. Polycom's VVX 300 is great because it can handle a moderate number of calls, and it has HD voice quality as well. This makes it great for when you have to talk to multiple people at once, so you as an employer will have no issues talking to your workers all at the same time.
The design is relatively good, although it might be a bit larger than some would like. If you have a black-themed setup at your desk, it will fit well. The price is about one hundred and fifty dollars, and the best thing about it is that you get a three-year warranty for it.
Sale
Bestseller No. 1
PANASONIC Bluetooth Corded / Cordless Phone System with Answering Machine, Enhanced Noise Reduction...
LINK2CELL BLUETOOTH ENABLED: Sync up to two smartphones via Bluetooth to make and receive Cell/smartphone calls anywhere in the house with link2cell...
TALKING TEXT SENDER ALERT : When a call comes in through your Link2Cell Smartphone or cell, the cordless phone will announce the name or phone number...
ENHANCED CORDLESS PHONE SOUND QUALITY : Noise Reduction automatically suppresses background interference while enhancing voice tones for clearer...
POWERFUL PHONE BATTERY BACKUP : With a charged cordless handset in the base unit, Enjoy up to 12 hours of talk time when the power goes out; Number of...
SECURE LONG RANGE PHONE SIGNAL DECT 6. 0 wireless technology offers a long range cordless phone and is ideal for homes and apartments with thick...
Sale
Bestseller No. 2
AT&T ML17929 2-Line Corded Telephone, Black
2-Line Operation, Caller ID/Call Waiting.Built-in speakerphone lets you multitask as you talk.2-line operation offers flexibility for your home or...
18 Number Speed Dial, 100 Name/Number Phonebook Directory
Speakerphone;It is portable
99 Name/Number Caller ID History
DSL Subscribers may need to us a DSL Filter. Please refer the User Manual & the Quick Start Guide before use.
Sale
Bestseller No. 3
VTech IS8251-3 Business Grade 3-Handset Expandable Cordless Phone for Home Office, 5" Color Display,...
[Business-grade Cordless Phone built for ease of use at home] VTech IS8251 cordless brings excellent clarity and range, ensuring highest quality in...
[Enhance efficiency] One-touch access to important contacts; One-touch to call back the caller from listed message or call history; Timer function to...
[Never missed a call] An Virtual 2-line system manages calls from landline and cell-line simultaneously. Pair up to 2 cell phones or one cell phone...
[Advanced Digital Answering System] The 5" color base LCD displays the caller information of the message received, allows you to choose who to listen...
[Smart Call Blocker] Say goodbye to unwanted calls. Robocalls on your landline are automatically blocked from ever ringing through—even the first...
Bestseller No. 4
Bestseller No. 5
FAQ:
Q: What are the best phone systems for a small office?
A: Four telephones with standalone control base units Expandable up to 16 telephones Perfect for office and corporate needs Charcoal color adds elegance to the setup
Q: Which type of phone system is best for small businesses?
A: We've compared the main options to help small businesses find the right VoIP phone system for their needs. https://hubs.li/Q010qyZN0 #SmallBusinesses #VoIP #MicrosoftTeams
Q: What is the best phone service for a small business?
A: eVoice Pros and Cons Standard Business Phone System Features Pricing Breakdown. Talkroute is a newer small business phone system that uses VoIP to help small businesses seem like INC 500 companies.
Q: What companies offer phone systems for small businesses?
A: Nextiva – The Best for Out-of-the-Office Organizations. Nextiva is an industry leader in the business phone service space—and for great reason. … Ooma – Best Physical Phone System for Small Businesses. Ooma is an ideal solution for businesses that want to keep using hard phones. … RingCentral – The Best for Businesses that Love to Text. …