You would think that spring is the season for florals right? But nope. I feel that fall is where it's at. Of course, flowers are great year-round but as a crafter, I feel that during this season you can really let your crafty flag fly high.
Just think of all the extras you can add to the arrangements… fall fruit, branches, pumpkins, fall foliage, sparkly sprigs, pheasant feathers… the list just goes on and on. So I thought I would share with you some seriously stunning fall flower eye candy to get your creative juices flowing and get you prepped for all of this season's soirees.

Goes to show you that the term 'Floral arrangement' loosely means throwing whatever you would like in some water in an interesting container. Berries? Sure! Sticks? Yeah! Cuttings from your eucalyptus tree in the front yard? Totally!

Who knew all it took to create the perfect fall arrangement you just needed a few fallen leaves?!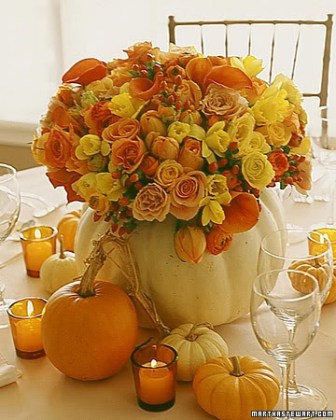 Via Martha Stewart.
Perfect for your pre-Halloween get-together with the other parents in the neighborhood (aka time to get your booze ready before heading out to follow the kidlins). Just take a pre-made store arrangement and plop it into a carved/hollowed-out pumpkin.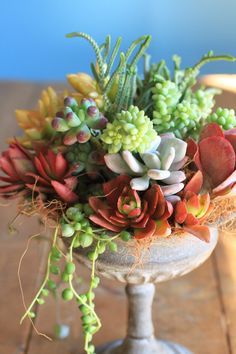 For us south westerners…. succulents are perfect for anytime of year. Just stick to more seasonal (fallish) hues like burnt oranges, yellows and reds.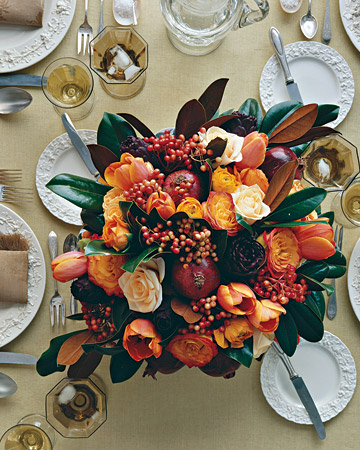 via Knotting Hill Interiors
I love this one. Pomegranates, roses and magnolia leaves (and some berries, not sure what they are). A pretty and festive low arrangement perfect for a coffee table or center piece that won't intrude upon table conversations.

Via A stroll thru life
Pheasant feathers, dried thistle and white berries in an awesome silver urn/chalice/trophy. Great for those of you who'd like an arrangement to last more than 30 seconds.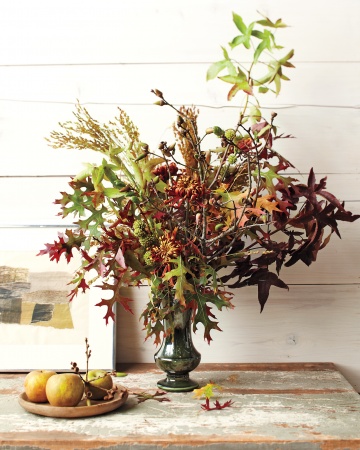 Via Martha Stewart
Festive and free for most of ya! Makes me yearn to live in a much more 'seasonal' place. Living in Sand Diego sure has it's perks but enjoying fall foliage is definitely not one of em. Our summers turn everything a burnt dirt color and we are left with palm trees and cactus for fall/winter. Festive? Not!

Via MS
Can't get much more literal than this for a fall-themed floral arrangement. Wheat. Check. Dried grasses. Check. Silky festive ribbon. Check check and check.
Just a few of my favorite pieces of fall floral eye candy.