So I jumped on the bandwagon (again). The ceramic & sharpie train that is. I did it once before when I found this awesome product and did this tutorial.
Here is another version of the DIY sharpie marker coffee mugs. I'm sure you have seen this idea before, as it is all over the blogisphere and interwebs (pinterest, flickr, instagram)… you name it, someone, somewhere has scribbled on a mug.
The DIY itself is very plain and simple. Just color on some mugs with a regular sharpie and put in the oven for 45 minutes to an hour at 400 degrees. My only gripe is that can't peeps be a little more creative?!
Does the world really need another mustache mug? I decided to go in the complete opposite direction and add a little more color and spice to my kitchen cabinet. I fell hard for these mugs at Anthro the other day and just knew I had to get my paws on them. But I knew that just one would not do, I wanted a whole cupboard full. And at $10 to $15 a pop, I wasn't about to go broke over mugs.
So when in doubt… DIY First my inspiration, then the results.
Purdy right?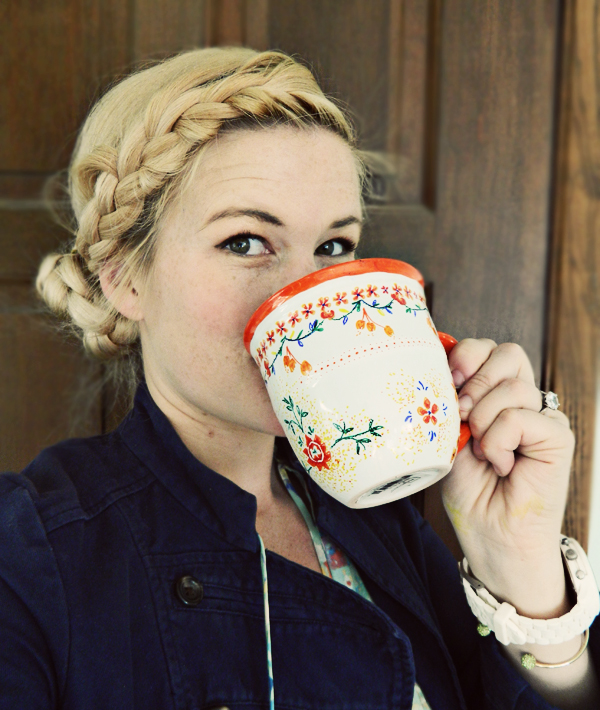 So far so good on the whole 'permanence' thing. I have hand washed them a couple of times and they are holding up great! I am a little scared to try the dishwasher and wash away all my handiwork, so drip-dry it is.
Hope you have some fun planned for the weekend. I will be loving our gorgeous weather and fabulous company.
Thanks for stoppin by!
For more great DIY ideas check this page!