Pretty excited about this one. Most of my DIY projects turn out fine, but it's only a select few that turn out extra supercalafragalisticexpealadocious…. or 'that's co' in man talk. If I get a, 'that's nice honey' from the huz then I know my project turned out awwwwesome.
Earlier this week I took the kids to one of my favorite places to gather inspiration, Balboa Park. I went there looking for landscaping ideas, but left with my eyes wide wanting some wrought (or cast) iron artwork for the house.
But alas, alas, vintage wrought iron can have some serious heft to it (weight-wise & cost-wise as well). I looked online at my usual decor porn; Pottery Barn, Restoration Hardware, Ballard Designs… all to no avail. But on one of my trips to Lowe's for house paint, I walked away with three of these suckers


A rubber stair tread mat. And at about $5 each I didn't feel guilty about scoring three for my home decor project.
Read on for how I turned a lowly rubber door mat into some scrumptious artwork for the eye. (Can art be scrumptious?)


Pretty dang simple. Lay out the mats on some cardboard. Give em two hefty coats of off-white spray paint. Let dry, then dab on some green & black (or dark blue) paint to add some patina.
To the naked eye (as opposed to what kind of eye?) these panels really do look like cast iron. The way the rubber takes the spray paint and crackles is just plain genius. And the little bits of green paint look like moss.
Just like how I imagined the perfect wrought iron panels to look if I was sauntering through the local salvage yard, the clouds would part and a beam of sunshine would be cast upon the corner of the panels hidden beneath a crumbling door, harps would be playing as I pry the antique gold from the clutches of oblivion.
As you can clearly see, I dream about 'the perfect score'. And I'm a little coo-coo for stuff like this. Did I scare you off yet. No? Good, let's ogle at these panels just a bit more…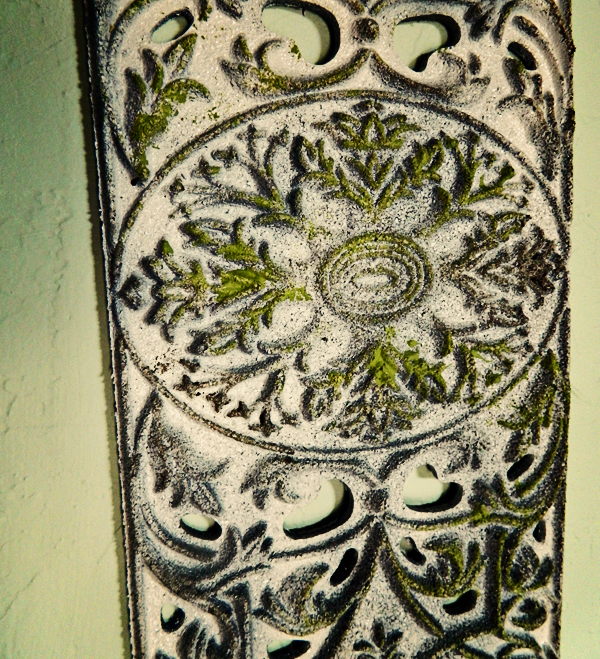 What a great weekend project for yous alls to try. Enjoy!