Did you know that the radiators in your home can be made from different materials?
When they're painted over and sit on the wall doing their job, we tend not to think about the material under the paint, or if it's even ideal for the room we have it in.
You might be surprised to know that radiators are traditionally made from one of four materials, and what you get from each will differ wildly.
Radiators can be made from the following:
Mild steel
Stainless Steel
Cast Iron
Aluminum
Let's take a look at the four materials your radiators can be made from, and what choosing a certain material has benefits over others.
Mild Steel – Stelrad Everest Line Radiator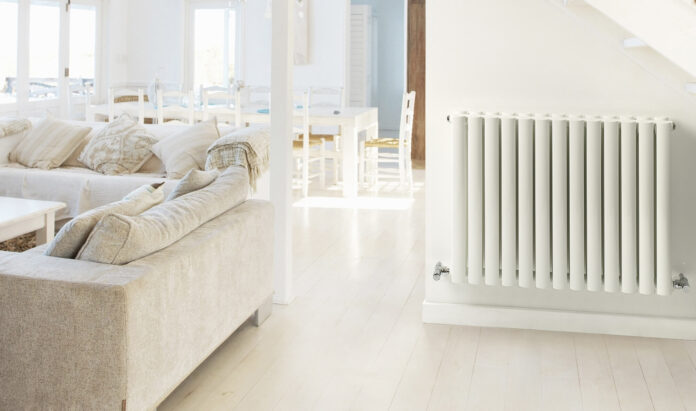 Bargain lovers, and companies which want to make cheap radiators, will always opt for mild steel. It is a cheap material to use, can be shaped and molded easily, and conducts heat very quickly. When you're looking at cheaper radiators, most brands with bargain options will tend to use mild steel.
The only downside to mild steel is that it is not fully resistant to corrosion, especially around the valve entries at the bottom, although you can easily keep a mild steel radiator in good condition with some inhibitor fluid (helps prevents dirt building up) and a little care of the radiator from time to time.
If you are looking for an ultra-modern design from this category of radiators, we recommend that you check out the Stelrad Everest Line Radiator that comes in white color and many different dimensions as well. It comes with a ten years warranty, and this particular model that's wide 140cm and tall 50cm weighs exactly 28,85kg. The main reason why we picked this one for the Mild Steel category is because of the outstanding look and the ten-year guarantee.
Stainless Steel – Apollo Ferrara
We tend to only think about stainless steel when it's embossed on cutlery, but it is much more prevalent than you'd imagine. Many household items like your fridge, dishwasher, pots, and even razor blades are made from stainless steel. Why is this the case? Well, stainless steel is very resistant to corrosion and makes for a tremendous conductor.
Stainless steel radiators work better than mild steel and are quite common even though they cost a little more expensive. You'll tend to find that radiators and towel rails with a simple design are made from stainless steel. The material also has the benefit of retaining heat for longer when you turn your heating off.
The only downside to stainless steel is that it won't be something that works without a problem throughout its lifetime. It may require some maintenance from time to time, but you shouldn't be surprised by any nasty problems.
Since stainless steel radiators are becoming so popular, we decided to give you our recommendation for the model that we think is the top-performer in this category, Apollo Ferrara. It has a brushed finish, giving you that futuristic and high-end look, and you can purchase it in sizes that vary both in the horizontal and vertical axis. Did we mention that you get an incredible twenty-year guarantee? Yes, you heard it right. Apollo Ferrara comes with a guarantee that's probably more than enough to last you until you get bored of the radiator and purchase a new one just for the sake of it. All jokes aside, it's a wonderful model in the stainless steel category.
Cast Iron – Reina Sena Designer Radiator
Cast iron radiators sit in a unique position when looking at materials. Most people will tend to think that cast iron means you're working with a clunky old radiator, but this isn't the case at all. While the material is the same, the way radiators are designed has moved along with the times, meaning that cast iron radiators work just as well as any other type. You'd be surprised just how well-cast iron can pump out heat when used on a modern central heating system. If you want to see what modern cast iron radiators are all about, click here to check out the cast iron options from Trade Radiators.
The only downside to cast iron is that it is a heavy material, and as such, you're looking at a radiator which can be tricky to install if you'll be doing the heavy lifting up a few flights of stairs.
For this category, we pick the Reina Sena Designer Radiator, a model that looks very nice and high-end, suitable for modern offices and homes as well. You can get it in many different dimensions which is one of the advantages of this company. Many of their models are available in so many different sizes, meaning that you can fit it in even the "trickiest" room. It comes with a fifteen-year guarantee, and you get a real-time tracking benefit until it arrives at your home.
Aluminum – Apollo Malpensa
I've left aluminum until last because it simply is the best material for making a radiator. Aluminum is highly conducive and provides tremendous heat output when compared to other materials at the same size.
And while it is excellent for radiators, there are two significant downsides to using it. Firstly, it is much more expensive, and you'll find that while one or two aluminum radiators are great in the home, you wouldn't want to have every single radiator be one unless you feel it was worth the price. Secondly, it's much more malleable than cast iron or steel, which can leave you in the position where something knocking against it can leave a dent or mark which is tough to iron out.
Out of the many available radiators on the market, for the aluminum category, we recommend the Apollo Malpensa model. It has a great build, modern design and it's made out of high-quality materials. On top of this, you can find it for a very affordable price, and you even get a ten-year guarantee for it which is already more than enough. Compared to some other brands, this is a top-notch choice if you're going for the Apollo Malpensa in the Aluminum category.
Get the best for your home
I hope you found this short article on radiator materials helpful, or at least now know why it's better to choose one over the other.
Make sure you stay up to date with the best products for your home by checking out the home & garden section of the site. Recent articles have looked at topics such as garden sprayers, home gyms, and pellet stoves.
FAQ:
Q: How to buy a good quality radiator?
A: – Stant is one of the most reliable brands when it comes to radiator caps. – This radiator caps have a safety release to help you in releasing the pressure. – It has a pressure rating of 16 PSI.
Q: Which radiator is best?
A: Bajaj Majesty RH 13F Plus oil filled room heater. This Bajaj Majesty RH 13F Plus oil filled room heater features a highly efficient design with 13 fins and a powerful … Havells OFR 9 fin PTC room heater with fan. … Kenstar oil filled radiator 11 fins with PTC fan heater. … Usha 3809F PTC oil filled radiator room heater. …
Q: What is the average price of a radiator?
A: The equation you use to convert that energy usage into cost is the power (kilowatt) x cost of one kWh (pence) x length of time. Currently the cost of one kWh is just over 21p. That means the oil radiator costs 42p an hour to run. If you had the radiator running for six hours that would be £2.52.
Q: Where to buy a radiator?
A: Here they explore the top three things to consider when buying a radiator: Designer or traditional? You may think that radiators are simply a way to warm up your home, and in the past that was true.