To have the perfect outdoor kitchen, there are some essential items that can give you the al fresco dining experience that you want.
You have a big, spacious patio or a backyard, and then one morning, you wake up and think, an outdoor kitchen would be nice, dining underneath the sky in this current pandemic situation.
Usually, when you install your new outdoor kitchen, or maybe you have an existing one, you probably have the basic tools needed, such as a countertop, cooking grill, a basin with both hot and cold water, and a refrigerator. These are the basics if you're occasionally cooking for your family. However, if you host large gatherings every other weekend, then you can add some appliances, such as ice makers (if you plan to have a bar, ice will come in handy, especially during summers), pizza ovens, portable BBQ grills, etc. All these will make your cooking experience and your life more comfortable. You can also give your kitchen a rustic look when designing, so it'll make you feel closer to nature.
Before you begin, take a look at the list of the things you need to have to make your outdoor kitchen the talk of the town!
Task Lights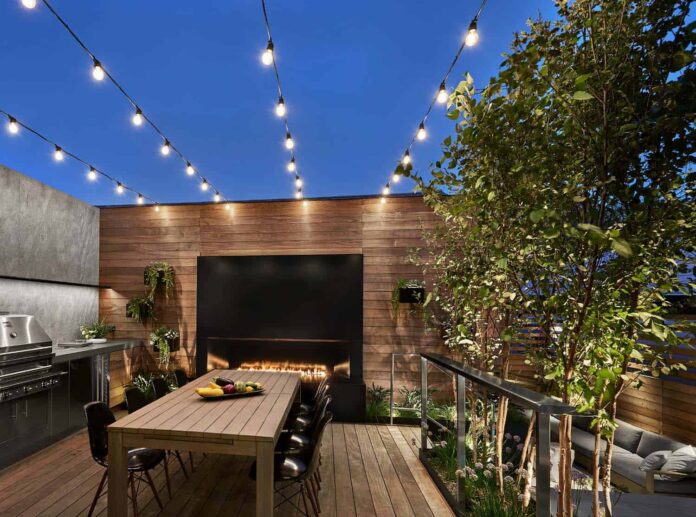 If you have already constructed an outdoor kitchen on your patio or backyard, you probably have installed lighting that is appropriate for evening dinners. However, if you are going to prep and cook foods and make drinks, you need sufficient lights for your particular work areas, so you can clearly see what you are doing without cutting your fingers while chopping, burning your hands on the grill, or splashing drinks all over the place.
This is where task lights come into play. They illuminate only a particular area for you to carefully work on while keeping the evening ambiance without brightening up the entire place.
Pizza Oven
Built-in, wood-fired, or a countertop pizza oven model can be installed in your outdoor kitchen to take your hangouts with family and friends to the next level. Everyone loves pizza, and hangouts seem empty without it. You can also install pool tables and play around while your pizza is being cooked in the oven.
There are many different models available to choose from expensive ones to ones that are easy on your wallet. You can visit this site to look at some of the reviews to know the pros and cons of each model and make an informed decision regarding which model will be suitable for you.
Ice maker
If you are planning to have gatherings often, then instead of running to stores before a party for an ice bag or keep filling your ice bucket from the freezer, just install or purchase an ice maker.
If you are still designing your outdoor kitchen, make sure to install an ice-maker, preferably under a counter, so it doesn't get in your way. Or you can have portable ones or free-standing units, which will take up a bit of space but would be more convenient for you.
Wine Coolers
This is another essential item that is necessary if you are entertaining crowds often. Just like the ice maker, you can install this under the counter if you are still in the middle of the designing process or remodeling your outdoor kitchen. You can even purchase standing units of wine refrigerators and prop them near an electrical outlet. Now, you don't have to keep running toward the wine cellar to bring in wine anymore during a party.
Warming Drawer
This handy appliance can keep the bread or foods, brought in by guests, warm, before being served. This appliance has been added as an extra feature when constructing an outdoor kitchen or remodeling for a decade.
This versatile tool is so useful in keeping your plates and cups warm that you do not need to wait for the food to heat up to be served. Even when making pizzas, you can put in the dough to get that perfect rise.
Beer Tap
Since you'll be entertaining large crowds often, renting a beer tap or kegerator will be more convenient and less expensive than buying beer cans or bottles. Therefore, having this feature added to your parties will not only be nature-friendly (since there won't be bottles or cans to recycle) but will also save you time (less post-party cleanup) and money.
Patio Bar or Bar Cart
If you have a big space to spare and a good budget, you can invest in installing a built-in wet bar all equipped with ice makers, a countertop space, a sink, blenders, beer kegs, and wine coolers. That way, you can hire a bartender to make drinks for your guests, and you get to enjoy socializing with them after a meal. Guests can also make their drinks if they prefer as some may find it enjoyable; it also becomes convenient for everyone.
However, if you do not have sufficient space available, you can always get a bar cart, which can be used both indoors and outdoors and can be stored away in your garage for later use.
Coffee & Tea Booth
This has the same requirement as the patio bar mentioned above. If you have space, you can install it while constructing your outdoor kitchen, making a separate area for an espresso machine, coffee maker, tea kettle, pour-over equipment, and various assortments of coffee grounds or beans and tea leaves.
To check out some of the coffee makers for your kitchen, check out UnoCasa.
Dishwasher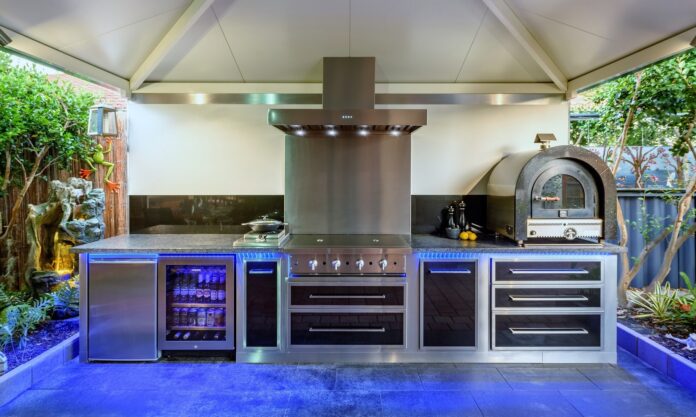 This is an essential appliance to have in your outdoor kitchen, especially when you are entertaining large crowds. You can use this along with your indoor kitchen dishwasher to save you time and simultaneously free up more plates to be used again.
However, plates are quite delicate as one drop can cause bits and shards to scatter all over the place. In that case, you can use paper plates when you are hosting a large gathering. Guests can throw them away in the recycle bins when they are done, and you don't have to worry about washing dishes either.
Bins
For small crowds with just family and friends, you can easily direct them towards the recycle and compost bins. However, for large crowds, you need to keep big bins, properly labeling each clearly. You do not want a tiring cleanup process. Therefore, 3 bins (trash, recycle, and compost bins) should be essential for an outdoor kitchen.
An alfresco dining experience right in your backyard is what you need to cook, eat, and relax right underneath the sky and stars. So get your essentials, whichever you may need, and start cooking in your outdoor kitchen.
FAQ:
Q: What cookware do I need for my new kitchen?
A: A large saucepan is essential for making pasta, boiling potatoes or corn, and simmering big batches of soups and broths. Look for a 5- or 6-quart size. A smaller saucepan (1.5 or 2.5 quarts) comes in handy for smaller items, like boiled eggs, rice and oatmeal. Purchase here. Ah, the classic Dutch oven, another cast iron essential.
Q: What is the best kitchen equipment to keep at home?
A: We like to keep a 4-piece set for measuring dried ingredients and small amounts of liquid. A 1-quart glass measuring cup makes measuring liquids a lot more convenient and efficient, and you can also make sauces and vinaigrettes right inside and then simply pour it into whatever you're cooking up.
Q: What do you need in a kitchen for beginners?
A: Every kitchen needs a heavy-duty colander for draining out boiled pasta and vegetables. It is also used for draining canned beans and freshly washed veggies. 16. PREP BOWLS IN EVERY SIZE Every kitchen needs a set of prep bowls to help you organize all your ingredients.
Q: What can opener do I need for my Kitchen?
A: A can opener is something you don't want to forget! Canned beans and vegetables make for quick-cooking and are great pantry staples, but a bunch of things also come in cans that require a can opener – coconut milk, curry paste, fruits, crushed tomatoes, etc. 18. MICROPLANE ZESTER