Oh my jeeze… I guess I shoulda have done this a whole lot earlier, but I thought I'd update you on our kitchen remodel process… it's only been 6 months since my last kitchen post! The latest on the remodel was to refinish/re-stain our butcher block countertops.
Kinda icky poo and definitely in need of some TLC. Annnnnnnd I was in need of a little change-up. While I am still utterly infatuated with rustic, worn-in, lumps and bumps in country kitchens, I was pining for a bit more glamour. Glamour in the kitchen you say inquisitively??… Yes. Mama was in dire need of more shiny blingy pretty somethin somethin in this room I spend all day long in ( at least that's what it feels like).
So what was the remedy? After I repainted my sea glass-colored cabinets a pretty pinkish-white I (and by I, I mean the hubs) stripped down the butcher block countertops and re-stained them a dark dark walnut with a HIGH gloss polyurethane finish.
And….
HOLY MOLY I couldn't be happier with the results! They turned out absolutely beautiful! A perfect counterpoint to our white country cabinets and polished nickel hardware (which will soon be swapped out for warm brass). Here's a tour…
I also have been playing with our furniture layout. I have a sickness. It's call rearrangeitis. It's a fairly common condition where one has the impulsive need to move furniture around the house. Mostly a harmless condition, but It can be problematic when a husband comes home from working the night sift and doesn't know how to navigate the new layout in the dark….. 😉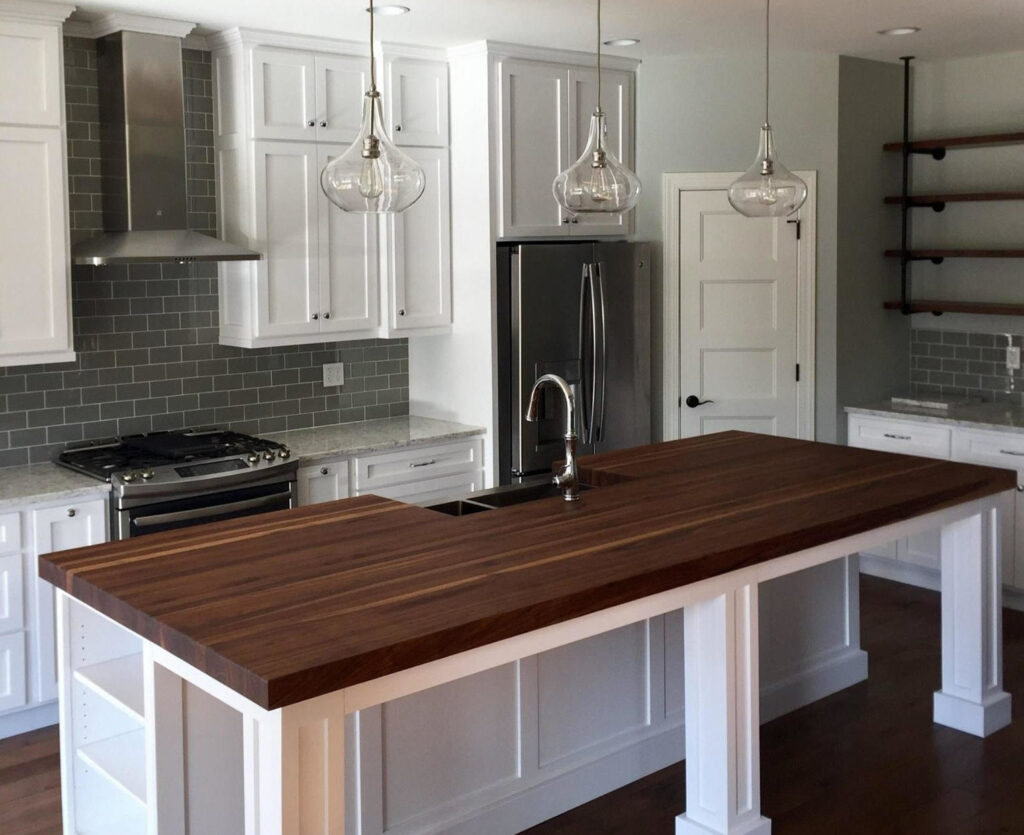 So in this new layout, I x-nayed on the industrial rolling cart/island and positioned the dining table in the center. It's actually lovely. Freed up a lot of floor space for the kids to dance/scoot around on the wood floors and lets me keep a keen eye on em while I'm in the kitchen cooking or here at the computer tapping away.
Next thing on the decorating agenda is deciding if I'm going to get upholstered dining chairs to situate on the ends of the table. Right now we have a bench and a couple of Windsor chairs.
Oh. I also painted the dutch door white. It really brightened up the space. While I love me some wood, there were so many competing tones in the kitchen/dining/living room. Also, it was a bit of a dark corner when the top was shut. So keep it simple. Paint it white.
Thanks for stopping by! Soon I'll share how I switched up our great room to suit our fall/winter needs.
Read Also: DIY Anthropologie Coffee Mugs