Say what?! Designer jewelry and accessories made from flour, salt & water???? Yep! I absolutely adore the salt dough craft. There are so many uses for it!
From jewelry to holiday ornaments to gift tags to small bowls and plates to hand-crafted little sculptures (yes I am creating some little gold fortune cookies for a table display 🙂 neat-o right?). Not to mention that making salt dough is so incredibly easy…. swoon… is a match made in heaven. Enjoy!
What you need: 2 cups all-purpose flour, 1 cup regular salt & 2 cups warm water. Mix slowly and then knead with your hands. This recipe makes quite a bit of salt dough, enough for 15-20 medium-sized ornaments. If you know you will use the excess dough in a couple of days you can place it in a Ziploc bag in the refrigerator, otherwise, toss the leftovers.
Steps: This tutorial has two parts, a necklace and rings. I used the same dough for both, just applied in different ways. For the necklace, I kneaded the dough and rolled out a large slab to about 1/4″ thickness. Then using a small round cookie cutter I cut out a few circles. Heat your oven to 350 and place your cutouts on an un-greased cookie sheet for 60-90 minutes.
You can bump up the temperature to 400 to shorten the baking time, it just might brown your dough slightly. This is not a problem if you are painting the shapes like in this tutorial.
After I baked the dough I let them cool for a few minutes. I then painted the circles with some metallic craft paint and sprinkled on two types of glitter. Set to dry overnight and then spray with epoxy clear coat. This will seal in the glitter and strengthen the baked shapes.
Lastly, I cut some twine to my desired length, wrapped some thin wire around each circle and then glued it to the twine. Wha-La! Very anthro inspired. They have all this great chunky jewelry out for the summer that I got a little inspired. For my pop art salt dough rings keep scrolling down.
Pop Art Salt Dough Rings: I used the same dough recipe as above and followed the steps accordingly. But instead of attaching them to the twine I had some leftover ring blanks. Add a dab of hot glue and you are ready to go! Perfect for little girl birthday goodie bag gifts, or attach them to barrettes.
Poke a hole in the circle before you bake it and you can then easily string it up for a necklace. The possibilities really are endless and any DIY that uses pantry staples is a winner in my crafting book!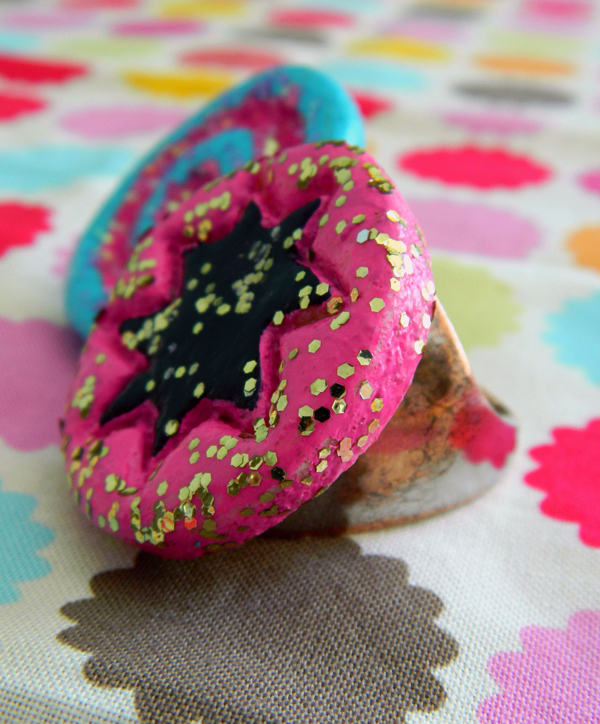 Thanks for stopping by and be sure to check back in during the holiday season to see all the crafty creations that I will make out of my trusty salt dough recipe!